"PAID LEAVE" OR "JAIL ON WATER"?
Date of posting: 08.11.2019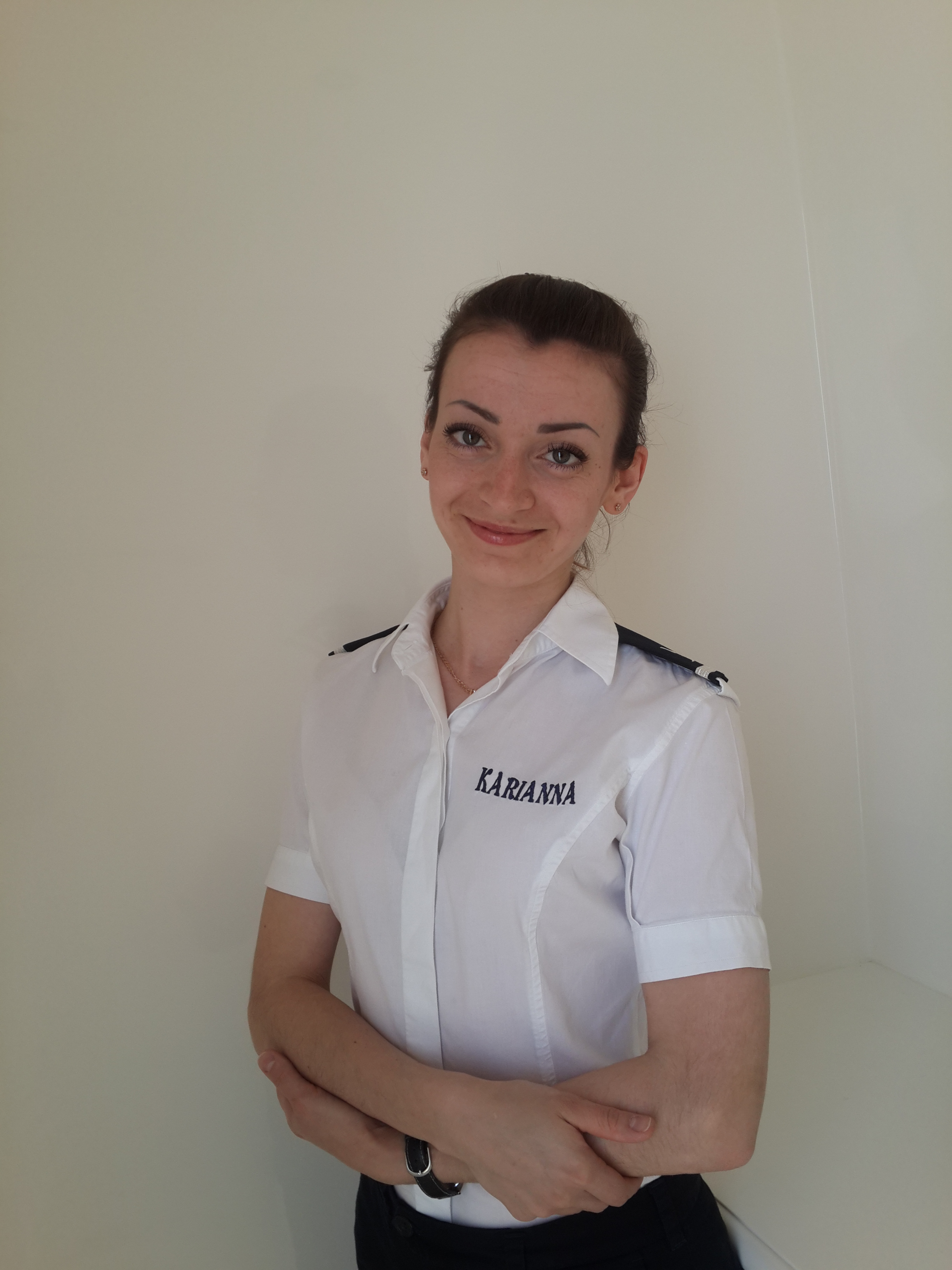 Interview with Ukrainian yacht stewardess Tatyana Kataraga
People often talk about the merchant fleet profession a lot. Every month several newcoming crewing companies receive Ministry of Social Politics of Ukraine licenses to provide assistance in employment on foreign owners' vessels, mostly on dry cargo carriers, tankers, bulk carriers and offshore vessels. But there are fewer companies that employ seamen on passenger fleet vessels in Ukraine. They are mainly concentrated in Kyiv. Generally these companies employ on large cruise ships. Employment on private yachts is a more rare thing.
Stewardess wage on cruise ship – 800-1500 EUR
Wage of the same stewardess on yacht from 1500 to 5000 EUR
Looking through the information on the Web you can often come across the opinion that working on a yacht is a kind of "jail on water". While other people say on the contrary that this is a great opportunity to earn money traveling around the world.
So where is the truth?
Crewing Guide decided to find it out firsthand.
Tatyana Kataraga is a Ukrainian stewardess who has been working on 40-50 meter yachts since 2012. She knows how to choose a contract and how to show herself as a professional pointed to work.
Arab yacht owners pay the highest wages
- Tatyana, tell me please, there are very few licensed crewing companies employing on yachts. Representatives of yacht owners work practically without documents, and don't bear much responsibility if any. How to search for a contract and what things to pay attention to in the first place?
- I choose "family yachts", where a husband, a wife and children have a rest. On such yachts the work is calmer. I am looking mainly in groups on Facebook. I don't refer to anyone, I just say that I trust European groups and personal connections; "the bush telegraph" also works perfectly.
When I look through the vacancies, I pay attention to the following things:
* is it a private yacht or f charter yacht. Private yacht has one owner. Charter yacht can be leased to different people. New guests can come at least every week. It is more comfortable for me to work on a private yacht with one family.
* wage.
* nationality of guests. For example, the Arabs sleep in the daytime and stay awake at night. Therefore, the crew schedule corresponds to the guest schedule. The senior stewardess makes up the work schedule, someone works from the early morning, someone – until late at night. The working day can begin at 6.00 a.m. and last until 4.00-5.00 a.m. in the next day.
* whether there is a cook on yacht or it is the stewardess who's in charge of cooking for the crew, therefore having less time left for her direct duties. Then she has to be more active.
* how often the yacht is used by the guests.
* the area of navigation. Depending on the area of navigation, the appropriate package of documents should be issued. It is convenient to work in Europe having Ukrainian biometric passport. But if there is a visa of other countries, why not.
- Who is not employed to work as a stewardess? After having read about the wage (by the way, is it true that the wage can reach 5,000 EUR?), everyone would like to work on yacht. Will everyone be employed?
According to the experienced seamen, the Arabs are the most generous and grateful employers. Working under the flag of the Cayman and Marshall Islands is the most prestigious due to good conditions and high wages (from 2000 EUR). French and Germans are also praised. But the opinion about Greek yacht owners differs – they are said to be hard to work with and often claimed to be excessively miserly.
- What concerns wage, it is true. But 5000 EUR is the wage of the senior stewardess.
Greek yacht owners pay the least wage (probably, in the merchant fleet there is a similar situation, isn't it?). There may be 1,500 EUR per month. But, basically, the stewardess gains 2500-3000 EUR.
Who is not employed to work as stewardess?
It is hard enough to find a job without experience. Working experience can be gained in hotels and restaurants on shore. Career on cruise ships is the best way to start working at sea. It's like a school of life.
Usually requirements for candidates are specified like that «without visible tattoos, piercings and non-smokers». Many yacht owners prefer workers who "do not provoke guests" with a non-standard appearance.
Without knowledge of the language. English is the basic language. Knowledge of several languages is an advantage, most often these languages are Italian and French. It depends on the area of navigation. There are vacancies for the position of stewardess with the knowledge of Mandarin language. This suggests that the guests on the yacht are the Asians.
"Non- format". Interviews (usually on Skype) are conducted by the yacht managers or Masters, less often by the owners themselves. There may be special requirements, for example, girls of model appearance. It depends on the individual.
- Tatyana, is it possible to discover the world while working on a yacht? Or do you stay on board all the time?
- It depends. The yacht can be moored waiting for the guests; thus, it is possible to enjoy the atmosphere of a country after working day or on a day off. When the yacht is at anchor there is no opportunity to go ashore. And when the guests are on board, there are no days off at all. It can last 2-3 months.
When I have spare time I try going out in the city and exploring the surroundings. It helps me to relax and concentrate on my work better. It is very exciting to taste the dishes of different countries, to know local customs and traditions. It inspires and broadens the mind.
- What are the most popular countries or islands for traveling on yacht?
- Today the most popular routes are the Mediterranean area, such as French Cote d'Azur, Spain, Italy, as well as Croatia, Greece, Turkey. Yacht is like a "summer cottage on water", in a new place every new time.
- How long does it take to prepare for a contract? What should you bring first?
- Certainly, first of all you should bring documents including seaman's book, medical certificate ENG1, ship basic safety training courses - Basic Safety Training (STCW-78/95), etc. Stewardesses are trained in training centers and obtain required certificates.
MUST HAVE or a stewardess handbag:
2.

A couple of extra photos and copies of documents
3.

Sea sickness pills and/or bracelet. Please note that the pills should not provoke HYPNOTIC ACTION! Personal medicines.
4.

Bring the original contract with you, leave a copy at home.
6.

Uniform, if you have a nonstandard size or a uniform has not been ordered for you yet. A white T-shirt, blue or beige shorts. Safety shoes, sneakers will be the best ones (shoes with covered toes and heels).
7.

Personal care products.
8.

Few personal belongings, as there is no much space in the cabins.
YouTube videos will also help you to prepare for a contract. It is a good practice to know a couple of life hacks about folding clothes, twisting towels and napkins or organizing space in an economic and beautiful way.
Universal soldier
- What is the daily schedule of a stewardess on yacht? What do you begin your work with and what are your duties? What should you be ready for?
- You should be ready for everything. You are a cleanness fairy, a waiter, a florist, a cook, a nurse, a seamstress and even a psychologist, if necessary. The morning starts with wet cleaning, and then a breakfast table is set up. When the guests leave their cabins, the cleaning begins - everything should shine, look clean and tidy. Perfect order is maintained on yacht throughout the day. Various requests of guests are carried out. During the dinner a stewardess does evening service. The working day of a stewardess ends after the guests go to bed. Then she cleans up the yacht for the next day. Such cleaning may last late after midnight.
- Are these duties performed by one person?
- Certainly not. 1- 15 stewardesses work on yacht depending on its size. One stewardess is engaged in washing and cleaning the crew area, the second one is responsible for the order in guest cabins, one more girl serves the guests in the bar and at the table.
- Don't you get emotional with such a daily routine? Do you sometimes want to give this up and leave?
- That is job. You agree to it consciously.
As a matter of fact there are only 2% of women in maritime profession. 75% of women out of these 2% work on cruise ships. This is easily explained: physical fatigue, which is especially severe in merchant fleet, turns into psychological fatigue in passenger fleet. They say, women can cope with it better...
- Tatyana, please share a secret how not to be nervous during voyage?
- Positive thinking helps me. Still everyone has its own "medicine". It can be Rubik's cube (or any other hobby), calls to home, eating chocolate or other ways of relaxing.
What is winter for Ukrainian, that is summer for American
- Work on yacht is in great demand from April to October. What is the crew engaged in in winter? Do they have to search for a job on shore?
- Actually there are several variants:
1) There is an annual and seasonal contract. There is an agreed leave of approximately 30 days per year according to the annual contract. Moreover, such leave can be taken only in low season. According to the seasonal contract you go home upon its termination.
2) Besides "Mediterranean" (our) season there is a "Caribbean" season. And when it is frosty and cold in our region, in the Caribbean region the summer just begins as well as yachting season. It's a really
good and easy way to try working there.
3) Look for a job on another yacht or on shore.
The ultimate dream
- In the merchant fleet the career prospects are clear. And what are the prospects on yacht?
- You can be promoted to the position of senior stewardess. Her duties include organization of work of other stewardesses. The age limit tol find job at sea is 40-45 years, depending on experience and appearance. With wide experience in servicing and a clear vision of working of "hotels on water" management system, it is possible to hold senior positions in the service sphere on shore or to have your own hotels.
- Tatyana, thank you very much for such an informative conversation. Crewing Guide wishes you to get the maximum satisfaction from your work and to make all your dreams come true!
In conclusion we would like to present some information on average wages of yacht crew members in the United States and Western Europe. Depending on the vessel type and position held published by The Yacht Report:
| | | | | |
| --- | --- | --- | --- | --- |
| Position | Yacht length | | | |
| | Up to 30 meters | Up to 40 | Up to 55 meters | > 55 meters |
| Seaman (the USA) | 1800 - 2000 | 2000-2500 | 2000-2500 | 2500+ |
| Seaman (EU) | 1600-2300 | 2000-2500 | 2100-3000 | 2500-3000 |
| Stewardess (the USA) | 2000-2300 | 2000-2500 | 2000-3500 | 3000-4000 |
| Stewardess (EU) | 1800-2300 | 2000-2500 | 2100-3000 | 2500-3500 |
It depends on the attitude to work and the ability to choose the appropriate yacht whether the work on yacht becomes "a paid leave" or "a jail on water". This work is not always as rosy and beautiful as imagination draws; sometimes it's full of unexpected , may be even unpleasant surprises. But! Forewarned is forearmed! If you have decided to work on yacht, be ready for everything, but remember: no job is worth your health! Therefore, consider all the pros and cons. And in case this is still your real dream, then open the sails to meet it!
Other documents
---
For seafarers
For employers
Statistics
---