Crewing Guide
Ukraine seafarers' employment journal
Everything related to seafarers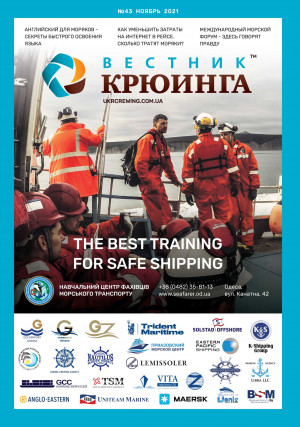 Выпуск № 43 за ноябрь 2021 г.
372 крюинговых компаний Украины.
Вакансии на суда торгового, танкерного, оффшорного, пассажирского, и рыбопромыслового флотов.
Статьи номера:
СВЯЗЬ В РЕЙСЕ В ЦИФРАХ: СКОЛЬКО ТРАТЯТ МОРЯКИ НА ИНТЕРНЕТ, И КАК УМЕНЬШИТЬ ЗАТРАТЫ?

(стр. 16-20)
- Плюсы и минусы спутникового Интернета, местных симок, берегового wi-fi и "ТрэвэлСим"
- Ситуация в мире: в каких странах самый дешевый Интернет?
- Способы экономии трафика для Apple и для Android
АНГЛИЙСКИЙ ДЛЯ МОРЯКОВ - СЕКРЕТЫ БЫСТРОГО ОСВОЕНИЯ ЯЗЫКА

(стр.23-26)
-
Зависит ли скорость освоения языка от метода преподавания?
Международный Морской Форум - здесь не боятся говорить правду

(стр. 49-50)
- Какие вопросы поднимают моряки?
- Можно ли попросить помощи анонимно?
43
Также в номере:
13 медучреждений, где можно пройти медкомиссию. В Одессе, Измаиле, Мариуполе, Херсоне, Киеве;

9 морских учебно-тренажерных центров. В Одессе, Херсоне, Мариуполе;
3 банка с финансовыми программами для моряков;
3 языковых центра;

морской юрист, который поможет решить спорные вопросы;
а также: морские курсы и семинары, программное обеспечение для крюинговых компаний, морская спецодежда, услуги трансфера, визы, авиабилеты и прочие услуги для моряков и компаний.
Ask in newspaper stalls and bookshops of the following cities:
Odessa - "Gorpressa" stalls, maritime library in 42 Kanatnaya Str., at "Knizhka" book market
Belgorod-Dnestrovsky - newspaper stalls near the central market
Kherson - "Soyuzdruk" newspaper chain, pedestrian underpass at the stop of "Svobody Square"
Mariupol - bookstores of

outlet chain

"Natali", "Priazovsky Worker" stalls, stationary shop in 15 Chernomorskaya Str., near Azov Maritime Institute of Naional University Odessa Maritime Academy.
Seafarers' handbook "Crewing Guide" is issued twice a year - in May and November. Its objective is to tell about everything that is connected with the seafarer's profession: terms of cooperation with crewing companies, naval training and language centres as well as about medical services, communication services abroad, bank services for seafarers, etc.

The handbook is distributed in port and some other cities of Ukraine: in Kyiv, Mariupol, Nikolaev, Kherson, Odessa, Izmail, Belgorod-Dnestrovsky.

Places of FREE distribution: naval stimulation centres, port master's office, maritime universities, language training centres, medical institutions.

Points of sale: book stores, newspaper stalls.

If you cannot find "Crewing Guide" handbook in a bookshop, please contact us and tell us the name and address of the shop. We will try that the handbook will appear there as soon as possible!

More detailed information on the places of handbook's distribution in each of the abovesaid cities as well as on advertising and handbook's purchase can be received from the editors office on the following telephone numbers:
+38 (048) 783-39-03
+38 (094) 712-00-52
+7 (989) 259-38-77
e-mail: vestnik@ukrcrewing.com.ua
skype: ukrcrewing.com.ua
---
Archives within years
2021 год
---