Crewing Guide
Ukraine seafarers' employment journal
Everything related to seafarers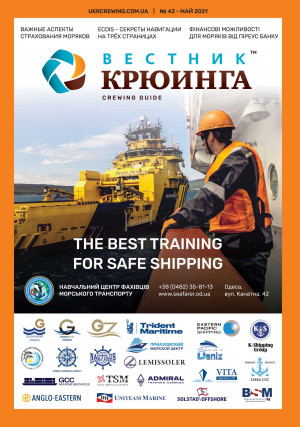 Issue № 42 May 2021
372 Ukrainian crewing companies
Merchant, tanker, offshore, passenger, fishing fleet vacancies.
Articles:
Insurance for ships crew members. (pp. 16-20)
- What expenses does insurance cover?
- Insurance in case of disability and death
- Differences in legislation of the ship's flag states
ECDIS: navigation secrets in 3 pages. (pр.33-35)
Safety Countour is the key parameter within the settings. The first detail many navigators are trapped by is: "Navigation within Safety Countour isn't safe, then it should not be crossed". Project founder Dmitry Parkhomenko discussed with us the other features of the system.
Piraeus Bank financial offers for seafarers. (pр. 23-24)
"PILOT', "CHIEF" and "CAPT" packages are offered. Which one provides savings regarding your regular income level?
42
Also in this issue:
14 medical centers providing medical examination. In Оdessa, Izmail, Mariupol, Kherson, Kyiv;
8 marine training centers. In Odessa, Kherson, Mariupol;
3 banks with financial offers for seafarers;
2 language centers;
Marine lawyer providing assistance in legal issues;
As well as marine courses and seminars, software for crewing companies, marine working clothes, transfer services, visas, air tickets and other services for seafarers and companies.
The issue is distributed among press stands and literature stores of:
•
Odessa – Gorpressa press stands, marine library on 42 Kanatnaya st., at Knizhka market;
•
Belgorod-Dniester - press stands by the Central market;
•
Kherson – Soyuzdruk press network, underpas at Svobody square bus stop;
•
Mariupol – Natali distribution network literature stores, Priazovskiy rabochiy press stands, office supplies store on 15 Chernomorskaya st., near the Azov Maritime Institute NU ОMА
Crewing Cuide journal is issued twice a year – in May and in November. It's aimed to inform about everything related to seafarers' job: crewing companies cooperation conditions, marine educational and language centers as well as medical services for seafarers, communication services abroad, bank services for seafarers etc.
Ask in newspaper stalls and bookshops of the following cities:
Odessa - "Gorpressa" stalls, maritime library in 42 Kanatnaya Str., at "Knizhka" book market
Belgorod-Dnestrovsky - newspaper stalls near the central market
Kherson - "Soyuzdruk" newspaper chain, pedestrian underpass at the stop of "Svobody Square"
Mariupol - bookstores of

outlet chain

"Natali", "Priazovsky Worker" stalls, stationary shop in 15 Chernomorskaya Str., near Azov Maritime Institute of Naional University Odessa Maritime Academy.
Seafarers' handbook "Crewing Guide" is issued twice a year - in May and November. Its objective is to tell about everything that is connected with the seafarer's profession: terms of cooperation with crewing companies, naval training and language centres as well as about medical services, communication services abroad, bank services for seafarers, etc.

The handbook is distributed in port and some other cities of Ukraine: in Kyiv, Mariupol, Nikolaev, Kherson, Odessa, Izmail, Belgorod-Dnestrovsky.

Places of FREE distribution: naval stimulation centres, port master's office, maritime universities, language training centres, medical institutions.

Points of sale: book stores, newspaper stalls.

If you cannot find "Crewing Guide" handbook in a bookshop, please contact us and tell us the name and address of the shop. We will try that the handbook will appear there as soon as possible!

More detailed information on the places of handbook's distribution in each of the abovesaid cities as well as on advertising and handbook's purchase can be received from the editors office on the following telephone numbers:
+38 (048) 783-39-03
+38 (094) 712-00-52
+7 (989) 259-38-77
e-mail: vestnik@ukrcrewing.com.ua
skype: ukrcrewing.com.ua
---
---