Crewing Guide
Ukraine seafarers' employment journal
Everything related to seafarers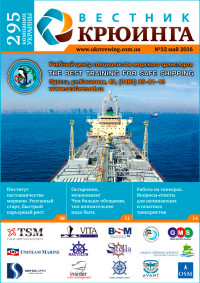 In May 2016 the thirty second edition of seafarer's handbook "Crewing Guide" was issued!
The main topic:
Work on tankers.
The companies, which employ on tankers and gas carriers, are indicated in the section "Base of Crewing Companies" (pages 73-86).
32
+ Work on tankers. Questions and answers for aspiring and experienced seafarers. Interview with tanker seafarer Aleksandr Romanenko, founder of video channel for seafarers.
+ Caution, swindlers! The more the promises are, the more attentive you should be. Maritime Transport Workers' Trade Union of Ukraine gives its recommendations.
+ Lawyer's advice: Criminal liability of ship masters for marine pollution in Ukraine.
+ Institute of seafarers' mentoring. Mentoring begins on shore. It is useful for beginners ...
You can also read as follows:
+ Language centres.
+ Medical institutions which are entitled to conduct medical screenings of seafarers and issue corresponding medical certificates.
+ Vacancies for seafarers. Information on education and receipt of documents for seafarers.
+ Are you offered a job at sea? Learn more at the forum "Odessa Crewing".
.
Ask in newspaper stalls and bookshops of the following cities:
Odessa - "Gorpressa" stalls, maritime library in 42 Kanatnaya Str., at "Knizhka" book market
Belgorod-Dnestrovsky - newspaper stalls near the central market
Kherson - "Soyuzdruk" newspaper chain, pedestrian underpass at the stop of "Svobody Square"
Mariupol - bookstores of

outlet chain

"Natali", "Priazovsky Worker" stalls, stationary shop in 15 Chernomorskaya Str., near Azov Maritime Institute of Naional University Odessa Maritime Academy.
Seafarers' handbook "Crewing Guide" is issued twice a year - in May and November. Its objective is to tell about everything that is connected with the seafarer's profession: terms of cooperation with crewing companies, naval training and language centres as well as about medical services, communication services abroad, bank services for seafarers, etc.

The handbook is distributed in port and some other cities of Ukraine: in Kyiv, Mariupol, Nikolaev, Kherson, Odessa, Izmail, Belgorod-Dnestrovsky.

Places of FREE distribution: naval stimulation centres, port master's office, maritime universities, language training centres, medical institutions.

Points of sale: book stores, newspaper stalls.

If you cannot find "Crewing Guide" handbook in a bookshop, please contact us and tell us the name and address of the shop. We will try that the handbook will appear there as soon as possible!

More detailed information on the places of handbook's distribution in each of the abovesaid cities as well as on advertising and handbook's purchase can be received from the editors office on the following telephone numbers:
+38 (048) 783-39-03
+38 (094) 712-00-52
+7 (989) 259-38-77
e-mail: vestnik@ukrcrewing.com.ua
skype: ukrcrewing.com.ua
---
---